Keeping track of your family car isn't challenging anymore. All you need to do is install our GPS car tracker device, which is equipped with car tracking and car location finder features. To make your car safer and more secure, our Intelli7 car tracking system also has advanced features such as engine immobilizer, geo fence notification, over-speeding alerts, and a much-needed panic button.
Constant innovation in vehicle telematics is the key to our business model, and Intelli7+ is the result of our ceaseless efforts to achieve the same. Apart from basic features like live vehicle tracking, over-speeding alerts, car finder and engine immobilizer, it offers a unique feature called the 'Watchman' – a personalised custodian who always looks out for your car. Our GPS car tracker can be purchased with a 1-year or 3-year subscription, both at affordable prices.
Vehicle Tracking
With Intelli7, it's easy to track the movement
of your car. Be it stationary or mobile, you
can discover its precise location through
smart GPS technology via the Trak N Tell
app.
Engine Immobilizer
Using the Trak N Tell app, you can immobilize
your car engine with just a touch. This advanced
feature empowers you to prevent theft
and be in absolute control of your vehicle.
Car Finder
Finding your car in a parking lot can be quite a
task. In such a scenario, Intelli7 assists you in
locating your car instantly. All you need to do is
send a signal to the device through the Trak N Tell
app.
Geo Fence Notification
When you activate this, a virtual fence is created
around your parked car. If it is moved out of this
'geo fence' without your permission, Intelli7 will
send instant alerts to your phone.
Panic Button
In case of a crisis, you can alert Trak N Tell
customer care by pressing the Intelli7 panic
button. On receiving the alert, we'll immediately
contact the owner on their registered mobile
number.
Over Speeding Alerts
This cutting-edge technology of Intelli7 alerts
you whenever you try to cross a designated speed
limit while driving. This helps protect you from
the dangers of the road.
SIMPLY THE BEST GPS CAR TRACKER IN INDIA WITH OVER 100,000 USERS.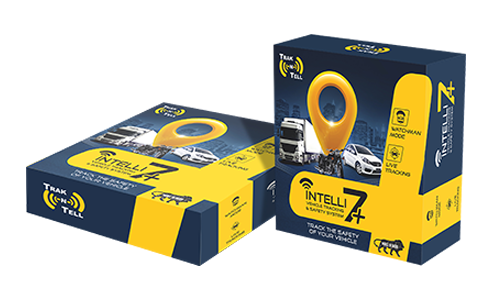 Intelli 7 +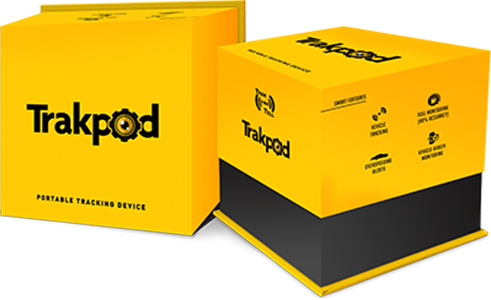 Trakpod
Our GPS Tracker for Car does everything you could possibly want to make your car more safe and secure. The tracking system connects your car with your Smartphone through the Trak N Tell App that is beautifully designed and easy to use from anywhere.