Vehicle Telematics is a vast field with an ever-growing use of intelligence and internet to talk with your vehicles. Keeping track of your vehicles with the use of smart technology is a common practice in the automotive industry. Serving the automotive industry with our expert iOT solutions, Trak N Tell is a powerhouse for vehicle telematics in India. Equipped with vehicle tracking and vehicle finder features, our automotive telematics devices make your vehicles more safe. Trak N Tell telematics system also has advanced features such as engine immobilizer, geo fence notification, over-speeding alerts, and a much-needed panic button. With an ever-evolving market of smart vehicles, Trak N Tell endeavours to serve the Automotive Telematics need with precision using cutting-edge technology and products made in India.
As the internet of things and connected service offerings continue their rapid expansion, automakers and technology providers battle to be the first on the road. There are millions of vehicles out there, on ground facing the realities of traffic conditions, road conditions, driver behavior and other environmental conditions. Now imagine if these vehicles were on a grid, giving you realtime data on engine and vehicle performance? For OEMs, this is an important signal to shift towards 'smart mobility' and deliver the next range of 'smarter vehicles' – customised design and features empowered by telematics that transform vehicles and transportation.

Data captured during vehicle use represents a largely untapped asset, we give OEMs the opportunity to gain value from this asset.
Our telematics devices are calibrated for Machine to Machine (m2m) communication that provides useful vehicle data.


With our intuitive telematics system, numerous in-built sensors monitor the performance of vehicle parts for optimum functionality.


We enable OEMs worldwide to discover and integrate effective telematics solutions in to their vehicles.
Vehicle Tracking
With Intelli7, it's easy to track the movement
of your car. Be it stationary or mobile, you
can discover its precise location through
smart GPS technology via the Trak N Tell
app.
Engine Immobilizer
Using the Trak N Tell app, you can immobilize
your car engine with just a touch. This advanced
feature empowers you to prevent theft
and be in absolute control of your vehicle.
Car Finder
Finding your car in a parking lot can be quite a
task. In such a scenario, Intelli7 assists you in
locating your car instantly. All you need to do is
send a signal to the device through the Trak N Tell
app.
Geo Fence Notification
When you activate this, a virtual fence is created
around your parked car. If it is moved out of this
'geo fence' without your permission, Intelli7 will
send instant alerts to your phone.
Panic Button
In case of a crisis, you can alert Trak N Tell
customer care by pressing the Intelli7 panic
button. On receiving the alert, we'll immediately
contact the owner on their registered mobile
number.
Over Speeding Alerts
This cutting-edge technology of Intelli7 alerts
you whenever you try to cross a designated speed
limit while driving. This helps protect you from
the dangers of the road.
COMPREHENSIVE AUTOMOTIVE TELEMATICS SOLUTIONS FOR INDIAN OEMs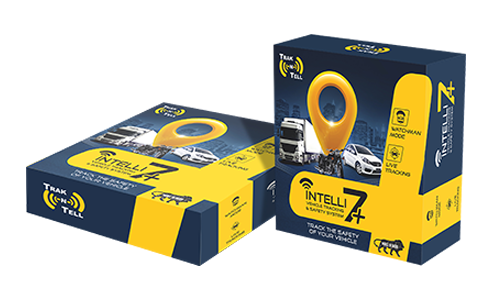 Intelli 7 +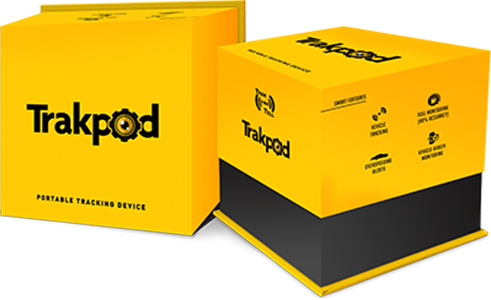 Trakpod
If you run a business that needs Telematics devices to ensure easy navigation, safety, security and communication, our Automotive telematics systems are just the solution you need for smooth operations. From Fleet management solutions to infotainment systems, we have it all.