Are you considering upgrading your car stereo? There are a few key segments to consider. You need to equip your vehicle with excellent speakers, a roaring subwoofer, a stunning enhancer, and above all, a new Android head unit.
A good car infotainment system head unit will transform your in-car entertainment experience, and also offer state-of-the-art security features along with Internet, Bluetooth, and Smartphone connectivity.
When buying a car music system, know the right head unit measurement that will fit perfectly in your vehicle. Trak N Tell IntelliPlay Head Units come with different options and features for your needs.

Can any head unit fit in any car?
No, not every head unit will fit in your car simply because all head units are not the same size. Essentially, head units come in one of two DIN sizes, known as Single DIN head units and Double DIN Car Stereo. Some vehicles support 1.5 DIN head units too, which estimates 3 inches x 7 inches. So, before you are buying, you need to know the fascia panel size and whether your car fits a Single DIN or Double DIN.
How do you measure a head unit?
The total height, measuring from the inside of the bezel (the trim surrounding the stereo to conceal the bodywork) if the radio is installed in the dashboard. Generally, head units come in single DIN with 180 x 50 mm panel, or double DIN with double the height 180 x 100 mm panel size.
WHAT IS SINGLE DIN SIZE 
In the automotive industry, a Single DIN size head unit is the standard radio body or stereo head unit size, estimating 2 inches tall and 7 inches wide. The depth of the system can vary, so ensure you know about the head unit depth your vehicle dashboard can hold. At Trak N Tell, we don't manufacture any Single DIN head units at the moment.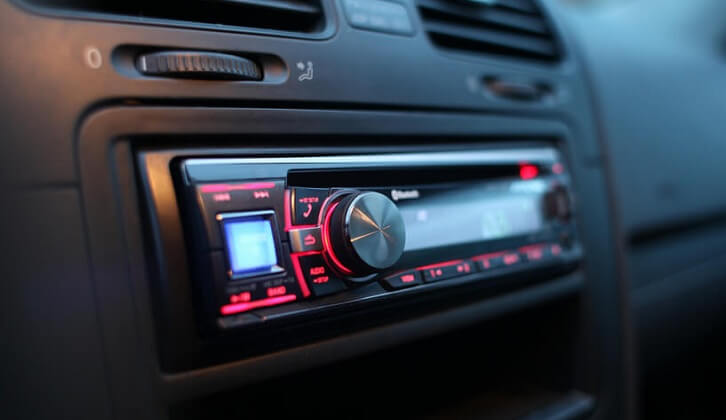 WHAT IS DOUBLE DIN SIZE 
As the name suggests, Double DIN size is twice as tall compared to a single DIN head unit, estimating 4 inches tall, with a width of 7 inches. A Double DIN head has a bigger dashboard screen, making it simpler to use.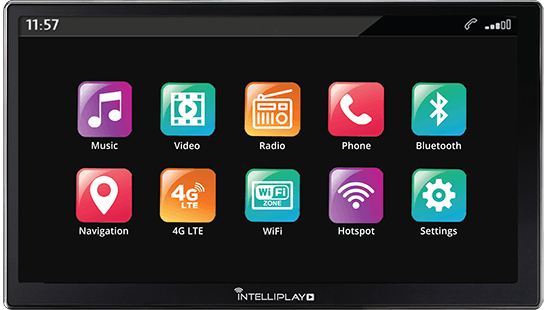 Are all Head Units universal?
Most head units are not universal. You need to pick an Android head unit that fits perfectly in your car's dashboard. There are universal head units that will fit most vehicle stereo system dashboards, however if you're not sure, email us or talk to us on WhatsApp before you buy a car stereo.
IntelliPlay
Android stereo system
is not just another accessory – its the future of in-car entertainment. Despite the many features, this head units boast of a very user-friendly interface. You can stream any audio or video online, and even connect your own USB or music players to the unit. You can make phone calls from the in-built SIM, or use CarPlay and Android Auto to connect your phone. And if you wish to avoid traffic, you can open Google Maps with Live traffic updates to navigate to your destination. IntelliPlay
Car Music System
also comes with in-built
GPS car tracker
with a range of great safety features.
INTELLIPLAY UNBOXING
ANDROID HEAD UNIT SIZE GUIDE
Use the chart below to know the right Android Head Unit size for your car.
| | |
| --- | --- |
| SCREEN SIZE | HONDA |
| 9″ | NEW CRV (WITH CANBUS & WIRING) |
| 9″ | OLD CRV |
| 10.1″ | OLD CIVIC (2006-2018) |
| 10.1″ | OLD JAZZ |
| 10.1″ | NEW JAZZ |
| 10.1″ | WRV |
| 10.1″ | BRM |
| 9″ | OLD AMAZE/BRIO/ MOBILLO |
| 10.1″ | AMAZE 2016-2018/BRV |
| 9″ | AMAZE 2018 |
| 10.1″ | CITY 2014-2019 (IDTEC) |
| 10.1″ | CITY 2008-2013 (IVTEC)(WITH SWITCH) |
| 9″ | HONDA CITY 2020 U.V |
| 9″ | CIVIC 2019 (WITH CANBUS & WIRING) |
| 9″ | OLD ACCORD (WITH A/C & CANBUS CONTROL) |
| 10″ | NEW ACCORD |
| 10″ | CITY ZX |
| | |
| --- | --- |
| SCREEN SIZE | MARUTI |
| 9″ | BREZZA |
| 10.1″ | SWIFT / DZIRE (2006-2011) |
| 9″ | SWIFT /DZIRE (2012-2017) |
| 10″ | SWIFT/DZIRE 2018 10″ |
| 9″ | SWIFT/DZIRE 2018 9″ |
| 9″ | IGNIS |
| 9″ | SX4 |
| 9″ | WAGON-R 2010-2018 |
| 9″ | WAGON-R 2019 (LOW END) |
| 9″ | WAGON -R 2019 (TOP END) |
|   | EECO |
| 9″ | ALTO K-10 |
| 9″ | BALENO |
| 9″ | ERTIGA 2018 |
| 9″ | CIAZ |
| 9″ | CELERIO |
|   | CELERIO FULL |
| 9″ | S-PRESSO |
| 9″ | RITZ |
| 9″ | ALTO-800 |
| 9″ | S-CROSS FULL |
| 9″ | A- STAR |
| | |
| --- | --- |
| SCREEN SIZE | MAHINDRA |
| 9″ | MARAZZO |
| 9″ | TUV-300 |
| 10.1″ | XUV -300 |
|   | XUV-500 |
| 9″ | KUV-100 |
| 9″ | BOLERO |
| 9″ | SCORPIO |
| 9″ | SCORPIO( WITH CANBUS & WIRING) |
| 9″ | OLD THAR |
|   | NEW THAR 2020 |
| 9″ | SCORPIO 2006-2012 |
| | |
| --- | --- |
| SCREEN SIZE | KIA |
| 10″ | SELTOS U.V |
| 9″ | SONET FULL U.V |
| 9″ | SONET (S) |
| 9" | SONET FULL MATT |
| | |
| --- | --- |
| SCREEN SIZE | HYUNDAI |
| 9″ | I-20 2012-14 |
| 9″ | I-20 2008-11 |
| 9″ | I-20 ELITE 2014-2017 |
| 9″ | I-20 ELITE 2018 |
|   | I-20 2020 |
| 9″ | ELANTRA 2012-2014 |
| 9″ | ELANTRA 2014-2016 |
| 9″ | ELANTRA 2017 |
| 10.1″ | CRETA old |
| 9″ | OLD VERNA 2006-2011 |
| 9″ | VERNA FLUDIC 2012-2016 |
| 9″ | VERNA 2017 |
| 9″ | OLD I-10 |
| 9″ | I-10 GRAND |
| 9″ | SANTRO NEW 2018 |
| 9″ | OLD SANTRO |
| 9″ | NEW SANTA FE |
| 9″ | OLD SANTA FE |
| 9″ | EON |
| 9″ | NIOS |
| 9″ | TUCSON |
| 10″ | NEW CRETA 2020 10″ |
|   | CRETA 20 FOR SONY 8000 |
| 9″ | NEW CRETA 2020 9″ |
| 10″ | VENUE/VENUE FULL |
| | |
| --- | --- |
| SCREEN SIZE | TOYOTA |
| 9″ | OLD FORTUNER |
| 9″ | NEW FORTUNER 2016 |
| 9″ | OLD INNOVA (2008-11) (AUTO & MANUAL A/C) |
| 9″ | OLD INNOVA (2012-15) (AUTO & MANUAL A/C) |
| 9″ | INNOVA SIDE A/C VENTS |
| 9″ | INNOVA CRYSTA |
| 10.1″ | OLD CAMRY |
| 10.1″ | NEW CAMRY |
| 10″ | OLD COROLLA |
| 9″ | ALTIS 2008-2012 |
| 10″ | ALTIS 2014-2017 |
| 10″ | ALTIS 2017-19 |
| 9″ | YARIS AUTOMATIC A/C |
| 9″ | YARIS MANUAL A/C |
| 9″ | GLANZA |
| 9″ | PRADO |
| 9″ | PRIUS |
|   | ETIOS/LIVA |
|   | NEW TOYOTA ANDROID WIRING |
| | |
| --- | --- |
| SCREEN SIZE | JEEP |
| 9″ | JEEP COMPASS(WITH CANBUS & WIRING) |
| | |
| --- | --- |
| SCREEN SIZE | TATA |
| 9″ | MANZA/VISTA |
| 9″ | NEXON TOP END (WITH CANBUS & WIRING) |
| 9″ | NEXON LOWER END |
| 9″ | TIAGO TOP END WIRING) |
| 9″ | TIAGO LOWER END |
| 9″ | HEXA |
| 9″ | HEXA ( WITH CANBUS & WIRING) |
| 9″ | TIGOR |
| 9″ | ALTROZ BASE MODEL |
| 9″ | ALTROZ T/M (1.5M LONG WIRING |
| 9″ | NEXON + LONG WIRE |
| | |
| --- | --- |
| SCREEN SIZE | VOLKSWAGEN |
| 9″ | POLO/VENTO/AMEO (WITH CANBUS & WIRING) |
| 10″ | V.W UNIVERSAL (WITH CANBUS & WIRING) |
| 9″ | POLO WITH WIRING |
| 10″ | V.W UNIVERSAL WITH WIRE |
| | |
| --- | --- |
| SCREEN SIZE | ISUZU |
| 9″ | ISUZU DMAX |
| 9″ | ISUZU V-CROSS |
| | |
| --- | --- |
| SCREEN SIZE | MITSUBISHI |
| 9″ | PAJERO SPORTS (WITH CANBUS & WIRING) |
| 9″ | OLD PAJERO |
| 9″ | OUTLANDER |
| 9″ | MONTERO |
| | |
| --- | --- |
| SCREEN SIZE | RENAULT |
| 9″ | OLD PULSE |
| 9″ | TRIBER |
| 9″ | KWID |
| 9″ | DUSTER/OLD FULL |
| 9″ | NEW DUSTER |
| 9″ | CAPTURE |
| 9″ | LODGY |
| 9″ | RENAULT UNIVERSAL |
|   | NEW KWID 2020 |
| | |
| --- | --- |
| SCREEN SIZE | NISSAN |
| 9″ | OLD MICRA |
| 9″ | SUNNY |
| 9″ | TERRANO |
| 9″ | NEW SUNNY/MICRA |
| | |
| --- | --- |
| SCREEN SIZE | FORD |
| 9″ | OLD FIGO 2008-2016 |
| 9″ | OLD FIESTA 2004-2009 |
| 9″ | OLD ENDEAVOUR |
| 9″ | ECOSPORT 2018 (WITH CANBUS & WIRING) |
| 9″ | ECOSPORT OLD (WITH CANBUS & WIRING) |
| 9″ | NEW FIGO |
| 9″ | FIGO ASPIRE |
| 9″ | FREESTYLE |
| 9″ | ECOSPORTS TREND/AMBIENT (2013-2017) |
| | |
| --- | --- |
| SCREEN SIZE | CHEVROLET |
| 9″ | BEAT |
| 9″ | CAPTIVA |
| 9″ | SAIL |
| 9″ | CRUZE (WITH CANBUS & WIRING) |
| | |
| --- | --- |
| SCREEN SIZE | SKODA |
| 9″ | RAPID (WITH CANBUS & WIRING) |
| 9″ | FABIA (WITH CANBUS & WIRING) |
| 9″ | YETI (WITH CANBUS & WIRING) |
| 9″ | LAURA (WITH CANBUS & WIRING) |
| 9″ | OCTAVIA (WITH CANBUS & WIRING) |
| 10″ | SKODA UNIVERSAL + CANBUS |